Nowadays, more and more people are willing to more to enjoy movies on laptop, smartphone or tablets especially when they are out for travelling. The movies can be downloaded from services like Amazon, iTunes, Netflix, Hulu, etc. However, for the Blu-ray disc you have purchased, how to watch them on your portable devices? The problems is that you won't find an optical drive on your portable devices to read the Blu-ray disc. In addition, many new computers are beginning to move away from optical disc drives, do all those facts means it is impossible to play Blu-ray movies on any new released devices.
For watching Blu-ray movies on-the-go, it couldn't be better to your Blu-ray to H.265 files, as H.265 is a quite hot file codec, widely used for saving media data and it's supported by various media players, video editing apps, online video websites, etc.
H.265 is a video compression standard designed as part of the MPEG-H project as a successor to the widely used Advanced Video Coding. In comparison to AVC, HEVC offers from 25% to 50% better data compression at the same level of video quality, or substantially improved video quality at the same bit rate. In a nutshell, HEVC is not completely supported by all popular devices. You'll need Android 5.0+ and iOS 11 on newer phones and tablets with more powerful processors. For computers, HEVC is natively supported on Windows 10 and MacOS High Sierra on newer desktop computers with more powerful processors.
What you need to do is download a Blu-ray to H.265 Converter, insert your Blu-ray disc into your computer optical drive and load it into the program's interface, then select a conversion profile which are tailored for specific devices.
What really matter here is how to choose a reliable and powerful Blu-ray to H.265 Converter, following are a few key attributes:
– The ability to break all the region code and copy protection on all Blu-ray disc.
– Output H.265 to a library of preprogrammed conversion profiles for playing on various different devices from smartphones, tablets to game consoles, set-top boxes and even televisions.
– Basic array of video editing tools to trim/crop/watermark/split/merge/deinterlace video so that you can get exactly what you want without applying to a standalone video editing application.
– Beneficial video profile parameters settings function to get better output video/audio quality.
Based on above listed standards, we have ranked 6 best Blu-ray Ripper program with detailed comparison parameters for you to determain which one is the best.
Software
Acrok
Video Converter Ultimate
DVDFab
Blu-ray Ripper
Leawo
Blu-ray Ripper

Pavtube
BDMagic

Tipard
Blu-ray Ripper

Brorsoft
Blu-ray Ripper

Remove Blu-ray Copy Protection
√
√
√
√
√
√
Remove Blu-ray Region Code
√
√
√
√
√
√
Price
$55.2
$119
$99.95
$49
$76.00
$55.95
Import File Formats
Blu-ray Disc
√
√
–
–
√
–
Blu-ray Folder
√
√
√
√
√
–
Blu-ray ISO
√
√
√
–
√
–
DVD Disc
√
–
√
√
√
–
DVD Folder
√
–
√
√
√
–
DVD ISO/IFO
√
–
√
√
√
–
Video Files
√
–
–
–
√
–
Output MP4 File Types
MPEG-4 MP4
√
√
√
√
√
√
H.264 Baseline Profile MP4
√
√
√
–
–
–
H.264 Main Profile MP4
√
√
√
–
–
–
H.264 High Profile MP4
√
√
√
–
–
–
MPEG-4 HD
√
√
√
√
√
–
H.264 HD MP4
√
√
√
–
√
–
H.265 MP4
√
√
√
–
√
–
3D SBS MP4
√
√
√
√
√
–
3D TAB MP4
√
√
√
–
√
–
3D Anaglyph MP4
√
√
√
√
√
–
Popular Device Preset MP4
√
√
√
√
√
√
Other SD/HD/2K/4K File Formats
√
√
√
√
√
√
Other Device Preset Profile Formats
√
√
√
√
√
√
3D SBS/TAB/Anaglyph AVI/WMV/MKV/MOV
√
√
√
–
–
–
Blu-ray Copy Mode
1:1 Full Disc Copy
√
√
√
–
–
–
Main Movie Copy
√
√
√
–
–
–
Subtitle Functions
Select Desired Internal Subtitles
√
√
√
√
√
–
Enable Forced Subtitles
√
√
√
–
–
–
Add External Subtitles
√
√
√
–
–
√
Other Advanced Features
Blu-ray Editing Functions
√
√
√
√
√
√
Adjust Output Profile Parameters
√
√
√
√
√
√
There are many Blu-ray converting tools that can help you convert Blu-ray to H.265 on Windows 10 or macOS Catalina. We tested some and finally choose Acrok Video Converter Ultimate. Before the simple instruction, we have some other to say, since ripping Blu-rays involve a gray area of copyright law, we suggest that you should be able to rip them for personal use, but in some countries this is patently illegal. we won't deal with those issues here. If you feel that it's right to rip Blu-rays you own to H.265 for more enjoyment, then read on to find out how.
Acrok Guide: Rip Blu-ray movies to H.265 with fast speed
Below is a simple tutorial to rip Blu-ray to H.265. First free download the Video Converter Ultimate free trail version. Keep in mind that you have download the right version, Windows platform .exe files cannot be installed on Mac OS – and vice versa. Windows version Blu-ray to H.265 Converter taken as example, the mac version has the same step.
1. Import Blu-ray
Click the disc button on the interface to upload Blu-ray files. Blu-ray ISO files and Blu-ray folder are supported here as well.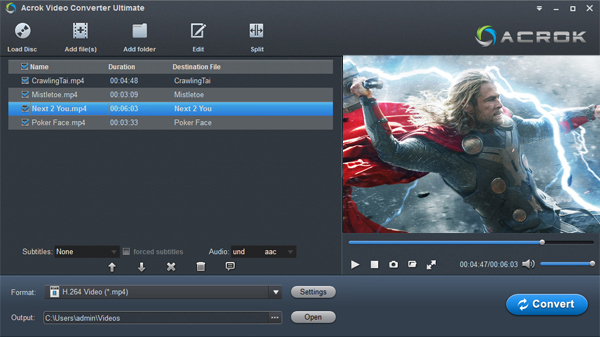 2. Select H.265 as output format
Hit the "Format" box and select H.265 Video(*.mp4) from Common Video profile. It enables you to rip Blu-ray to H.265 .mp4 with the best quality. Here H.265 presets "H.265 MKV Video(*.mkv)" is supported too.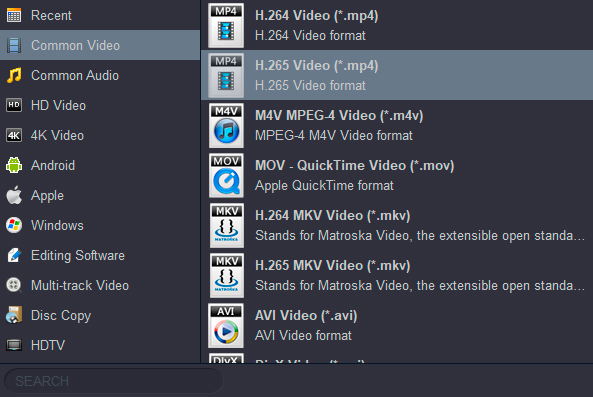 3. Start the conversion
Click the "Convert" button, it will convert Blu-ray to H.265/ MP4, or H.265 MKV with fast speed immediately. You can view the conversion progress and are able to cancel the converting process at anytime.
Once the conversion is done, click Open button to locate the results videos in H.265 codec. Then just transfer the converted H.265 videos to your tablet or storing the contents on your USB drive for playing on any portable media players and devices as you like.
Conclusion and Best Pick
Now you have grasped how to convert Blu-ray to H.265 with simple clicks with recommended software. Whichever you choose, desirable Blu-ray to H.265 conversion speed and advanced options such as output quality selections and video editing shall be given top priority. Also, it will be more fantastic to upscale video quality with substantial video enhancer when converting Blu-ray to H.265. In this case, the final output H.265 can be played with Blu-ray (Full HD/1080p/4K) standard, thus bringing a stunning viewing experience. To satisfy these needs, Acrok Video Converter Ultimate will be the only choice.
You may also need to read:
How to import a Blu-ray to play on iPhone 12 Pro Max
Sony TV Supported video format
Blu-ray to USB Converter | Rip and copy Blu-ray to USB Flash Drive
Tesla Model 3/S/X/Y USB Supported Audio/Music/Song Formats
How to watch Blu-ray movies on Galaxy Note 20