You have a bunch commercial 4K Blu-ray discs and would like to compress them to H.265 videos, or want to rip the episodes from the 4K Blu-rays to your hard drive for eventual upload to your portable device for viewing on the road. Every movie disc wears through the course of daily use, 4K Blu-ray disc is no exception. In order to better watch Blu-ray films and protect Blu-ray discs, it is necessary to compress and convert Blu-ray films into popular formats. H.265/HEVC MP4 is the best choice.
Then you are looking for some software to rip 4K Blu-rays on a Mac machine to H.265/HEVC format. You have used some 4K Blu-ray ripping software, but only to find that they did not work. Is there a better application that you can use to make your Blu-ray collections into H.265/HEVC in order to add them to your hot smartphone or tablets for later watching?
Acrok Video Converter Ultimate for Mac (macOS 12 Monterey Supported) is one of the most popular and helpful 4K Blu-ray to H.265/HEVC converter available in the market. The software is very powerful and versatile. It helps you to watch 4K Blu-ray movies anywhere by converting 4K Blu-ray movies to popular formats like H.265/HEVC MP4, H.265/HEVC MOV, H.264 MOV, H.264 MP4, etc.
Tip: If you're a new user of Acrok, you can purchace the 4K Blu-ray to H.265/HEVC Converter via 20% Off Coupon Code: ACRO-LD93-NLID
Features of 4K Blu-ray Ripper

Rip, convert and compress 4K Blu-ray to 4K H.265/HEVC MP4.
Convert 4K / 1080P Blu-ray to more than 200 output formats.
Transcode 8K, 5.9K, 5.5K, 4K MOV, MP4, MXF for any editing software.
Backup Blu-ray/DVD disc with quality lossless.
Edit video clips with cut, crop, and special effects.
Extract audio from CD to MP3, AAC, M4A etc.
Support NVIDIA NVENC Transcoding Acceleration.

System Requirements

macOS 12 Monterey
4GB of RAM and above
200GB of free hard disk space
A 4K UHD Blu-ray Drive
Live Internet connection required to register Acrok (little network traffic used)
Part 1: How to rip 4K Blu-ray to H.265/HEVC MP4 on macOS Catalina
Step 1: Load 4K Blu-ray Disc
Before starting, you need to put the 4K Blu-ray disc to your computer internal or external 4K Blu-ray driver. After downloading and installing the latest version of macOS 12 Monterey Blur-ay Ripper, and then click "Load Disc" icon to load the 4K Ultra HD Blu-ray source. After select the Blu-ray drive, you can press OK and this Mac 4K Blu-ray Ripper will start analyzing Disc structure. You are allowed to select the audio track and subtitles on each Disc title.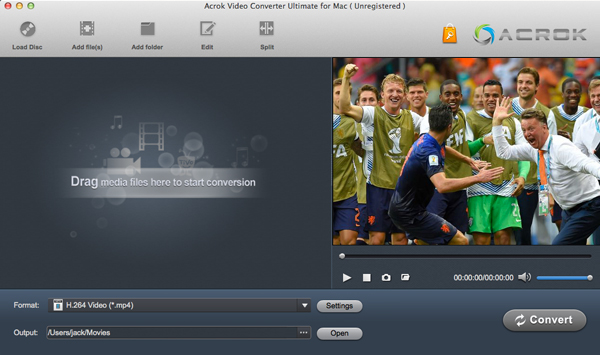 After importing, all video files will be listed in the program. You can preview the imported movie file by double clicking or checking one of them and click the play button under preview window.
Step 3: Choose H.265/HEVC MP4 as the Output Format
Click "Format" > "Common Video" > "H.265 Video (*.mp4)" as the output format from the drop-down list. Other more video and audio formats like MOV, M4V, AVI, MKV, WMV, FLV, MPEG, etc. are also provided.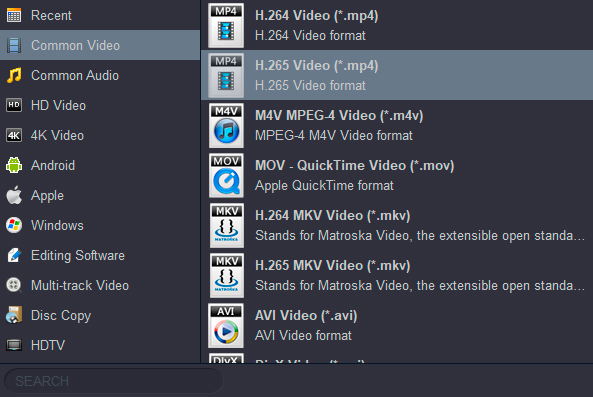 If you want to play your Blu-ray movie on portable devices like iPhone 13 Pro Max, iPad Air, Galaxy Tab S7, Play Station 5 or Xbox Series X, Apple TV 4K, and more, you can simply browse to find the icon of your device and select it as the output format. For importing and editing 4K Ultra HD Blu-ray in Final Cut Pro X, iMovie, Premiere Pro CC, etc, you can choose output options from "Final Cut Pro", "iMovie" and "Editing Software" categories.
Before you rip 4K Blu-ray movie you may want to first customize it using some of the available options. For example, you can rename the output, pick the titles you want to rip or add audio tracks and subtitles. You can also use the Advanced Settings and Edit options to make additional changes like adding watermarks, cropping or trimming the video and changing the aspect ratio or the resolution, among others.
Step 3: Start converting 4K Blu-ray to H.265/HEVC MP4
Click "Convert" button to start rip, convert and compress 4K Blu-ray Disc to H.265/HEVC MP4 and more. When the conversion is done, click "Open" button to locate the converted 4K Blu-ray files. You can play the ripped movies on any media player for free.
If necessary, you use Acrok Video Converter Ultimate for Mac to personalize your 4K Ultra HD Blu-ray movies and make them special.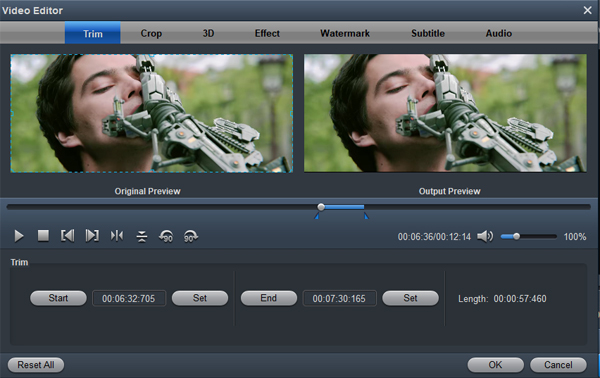 1. How to convert a segment of 4K Blu-ray movie?
By default the "Edit" icon is grayed out. To activate the edit menu, you have to select a Blu-ray title first. When a video file is selected, you can click the "Edit" icon on the tool bar of main interface to edit selected file. The "Trim" feature allows users to decide where to start and where to end when converting the selected clip, so that unwanted segments will be cut out after conversion. All you have to do is input the time of two nodes (Start and End).
2. How to crop Blu-ray movie?
Select movie in the center panel, click on Edit > Crop, check "Enable Crop" box, set "Crop Area Size" and the "Position of Crop Area" to crop the video, or use the crop tool in the preview area to visually adjust the dimensions of the cropped area. Finally, clip "Ok" to save changes. You can preview the "Original Preview" and "Output Preview" video. Click "Cancel" button to restore all the default settings of a video.
3. How to merge several 4K Blu-ray titles into one?
If you want merge several 4K Blu-ray titles into one, you can choose the needed titles on the center panel, click "Settings" button then check "Merge All Files into one".
4. Add special effects
Select movie in center panel, click on "Effect", and you can adjust brightness, contrast and saturation by either moving the slider or adjust a value for the effects. Here are 5 special effects for you to choose from.
Conclusion
As you can see, it's not absolutely necessary to buy a new player if you want to enjoy 4K Blu-ray discs at home. You can achieve virtually the same results using 4K Blu-ray ripping software, which is obviously a much cheaper option than buying a new player. In addition to excellent video and audio quality, Acrok 4K Blu-ray Ripper also provides you with plenty of tools that allow you to customize files to suit your specific needs.